I posted this picture on Facebook last night, and my friends wanted the recipe.  Since I didn't work from a recipe, I'll try to give you the ingredients and general idea of how I did it.  It is the best soup I've ever made! I used a bunch of vegetables we got from our farm share yesterday (which, by the way are so beautiful I could cry).  (mudcreekfarm.com)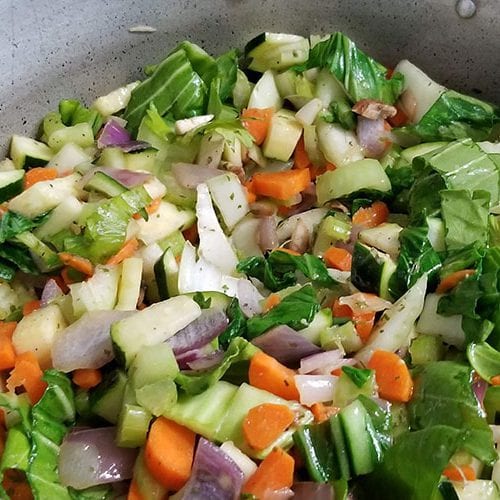 Vegetable Soup
Ingredients
3

large carrots, diced

3

stalks

celery

1

large onion

1

large leek, thinly sliced

2

cloves

garlic, minced

3-4

medium potatoes

2

tbsp

herbs de Provence

(it's an herb mix you can get in most grocery stores)

1/2

tbsp

dried rosemary

use fresh if you have it!

8

cups

water

2-3

tbsp

high quality chicken base

1/4

cup

half n half

1/3

cup

white wine

kosher salt and pepper to taste

1

lb

pasta of your choice

I used mezzi rigatoni b/c it was already cooked in the fridge

parmesan cheese for garnish
Instructions
First, I have a small garlic chopper that I LOVE – I put the garlic and the dried herbs in the chopper together and chopped it all up until everything was minced well. In a large pot, I heated 2TBS Olive oil and 1TBs of butter (for extra flavor). Added the carrots, onion, celery, leeks to to the pot. Saute the veggies until the onions are softened (~5 min). Then add the garlic/herb mixture. Yeah, it smells awesome.

Cook the mixture for a couple more minutes to release the flavor of the garlic, and then add the wine. Cook the wine down for about 3 minutes, and then add the water and chicken base. If I had had vegetable broth made or in the cupboard, I'd have used that, but I had chicken base, so that is what I used. I use the Better than Buillon bases, and I really like it (available at most grocery stores). Don't get the cheap, crappy, full of MSG stuff, ok? These bases are very flavorful, and are cheaper than buying the liquids overall.


Bring the soup to a boil, and then add the potatoes (be CAREFUL not to burn yourself, drop them in gently). Cook the soup for ~20-30 minutes, and check the taste and the doneness of the potatoes. If the potatoes are nice and soft, you're good to go.


The finishing touches that made it so much better:

I used an immersion blender to blend the soup to thicken it (that's why the potatoes need to be nice and soft). Just a little bit, so I didn't pulverize all the potatoes and the soup still had some 'chunk' to it. I ended up adding a bit of water/cornstarch mix before I realized I could thicken it this way, so you could do either. Once the thickness is to your liking, turn off the heat, and slowly add the half n half. This gives it that extra silky richness. Stir that in, and taste it again. Add salt/pepper to taste.

Serve the soup with the cooked pasta and good parmesan (don't shake it out of the can, that hurts my heart) and a nice crusty loaf of bread if you happen to have that on hand. I didn't have the bread, but it didn't matter, the soup was THAT good. If you have any questions, leave a comment below!